MIFARE Ultralight Family
The MIFARE Ultralight® family currently consists of three family members which provide system integrators with maximum flexibility for complete system solutions including but not limited to time-based, zone-based or multiple-ride tickets as well as single use tickets. Integrators benefit from the non-reloadable limited-use tickets through the appropriate use of its One-Time-Programmable (OTP) memory area in combination with the ISO Unique Identifier (UID) on a secure infrastructure.
MIFARE Ultralight product-based tickets are ideal for low-cost, high-volume applications such as public transport, loyalty cards and event ticketing, serving as the perfect contactless replacement for magnetic stripe or barcode, addressing the trend of switching entire systems to purely contactless solutions.
The introduction of MIFARE Ultralight contactless ICs for limited-use applications leads to reduced system installation and maintenance costs.
MIFARE Ultralight products can easily be integrated into existing schemes and even standard paper ticket vending equipment can be easily upgraded.
For better understanding we integrated a product overview chart on the features of our MIFARE Ultralight family members: MIFARE Ultralight C, MIFARE Ultralight EV1 and MIFARE Ultralight Nano.
Take a look at our NFC reader for MIFARE products.
Key features:
Fully ISO/IEC 14443 A 1-3 and NFC forum tag type 2 compliant
Operating distance up to 10 cm, 13.56 MHz operating frequency
Data transfer of 106 Kbit/s
True anti-collision
Field programmable 'Read only' locking function per page
Up to 100.000 single write operations
MIFARE SAM AV2 based security methods supported
Data integrity of 16-bit CRC, parity, bit coding
7 byte UID – unique identifier (cascade level 2 according to ISO/IEC 14443-3)
Key applications:
Limited use tickets in public transport (e.g.: single and multiple trip tickets, tourist weekend passes)
Event ticketing (stadiums, exhibitions, leisure parks)
Loyalty and closed loop payment schemes

MIFARE Ultralight C
NXP IC solution for contactless limited-use applications with enhanced security
Download Leaflet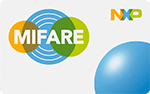 MIFARE Ultralight EV1
NXP IC solution for next generation contactless limited-use applications
Download Leaflet